How To Hire The Best Real Estate Legal Assistant
If you are an attorney with a specialty in real estate law, you know how busy it can get. Especially when it comes to the amount of paperwork and administrative duties that go into every transaction. To keep up with the demands of the job, hiring a reliable and efficient legal assistant can be your best option.
Hiring the best real estate legal assistant is a challenge. However, you can find one with the help of the right approach. You can find the perfect candidate by way of posting job opening ads (online and offline) while specifically asking for what you're looking for in skills and qualifications.
Let's take a look now at what you need to do in order to find a real estate legal assistant who will be the perfect solution for your law office
1.-Look for relevant experience
When it comes to looking for a legal assistant, relevant experience is key. You'll want to find someone who is organized, detail-oriented, and able to multitask in a fast-paced environment. When you put together your job posting, make sure that you are looking for someone who possesses these tasks.
Furthermore, you'll want to emphasize that you are looking for someone with experience. An experienced legal assistant performing these tasks with experience will make it easier for you. This includes secretarial duties when needed.
2.-Assess administrative skills
A real estate legal assistant is someone who should be skilled in administrative tasks. This includes organizing files, scheduling appointments, and managing internal communication. You want someone who is able to demonstrate these skills.
At the same time, you can administer a test to see how proficient they are at them. This can help set them above the other candidates interested in the position. It can even make it easier for you to eliminate the candidates that don't qualify.
3.-Evaluate research skills
Carrying out the duties of research is critical for the role of a real estate legal assistant. This includes researching any laws that may pertain to your jurisdiction. They should also do research to help draft any pertinent legal documents that are relevant to any transaction being done.
If the candidate has experience with navigating legal databases, that's a plus.
4.-They should have strong communication skills
A real estate legal assistant will be able to communicate effectively with a client and other members of your team regularly. You'll want to find someone that has strong communication skills and give them a chance to test them out through an assessment.
They will need to be able to use these communication skills to solve problems. It will also come in handy if you want someone who is a team player. A candidate with a positive attitude, a willingness to learn, and the ability to work well with others is a plus.
5.-Choosing between a freelance and a full-time real estate agent
Real estate differs from many other professions in that real estate agents, even when they only represent one broker, are typically regarded as independent contractors. This indicates that the majority of your real estate agents aren't actually working for your real estate firm. They have more freedom over when and how they work because they are independent contractors.
Final Thoughts
A real estate legal assistant is someone you can count on to lighten your workload. It's always a good idea to hire one with the experience and the abilities to take care of what needs to be done. Don't miss out on the opportunity to hire a worthy candidate that will go above and beyond so you can run your real estate law firm with efficiency and ease.

Founded in 1998, Professional Alternatives is an award-winning recruiting and staffing agency that utilizes technology and relationships to deliver top talent. Our team of experienced staffing agency experts is here to serve as your hiring partner. Contact us today to get started!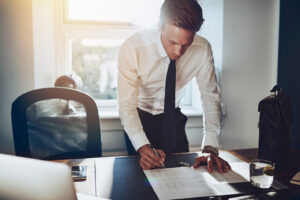 Mastering Modern Litigation: How Houston Paralegals Can Optimize E-Filing and Records Administration ‍ Unlock your potential with the…
(Read More)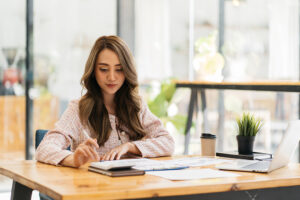 AP Processing Demystified: A Step-by-Step Guide for Recruiters in Houston, TX Introduction to AP Processing As a recruiter…
(Read More)