Severance pay is money paid by an employer to a laid off employee on the termination of a work contract or term. Letting employees go can be difficult for not just your company, but those individuals that are directly affected by this decision. If you want to provide terminated employees with severance pay, there are things that need to be done first.
—
Steps to Take Before Giving Severance Pay to Employees
—
1) Review Federal Laws Regarding Severance Packages
To avoid potentially costly legal issues, check relevant federal laws. It is not a mandatory requirement in The Fair Labor Standards Act for employers to provide their employees with severance pay. It is mainly an agreement between both parties and could be included in a union contract. If you want to close a plant or carry out a mass layoff, ensure that you comply with WARN—the Worker Adjustment and Retraining Notification Act, and give your employees advanced notice.
—
2) Consider State Laws
Before mapping out a severance package policy as a guide to ensure you are treating all your employees equally, make sure you check state laws. States have laws that require severance pay to be paid to employees who are terminated without cause. For instance, Puerto Rico law states that employees that are discharged without any given cause must be given an indemnity based on their years of service. You should check the website of your state's labor office to see the severance package requirements, if any.
—
3) Get Acquainted with Taxable Income Details
You should create a severance package agreement that your employees need to sign and ensure that they understand what they are consenting to. Severance packages and unemployment benefits are usually taxable to the employee. You should withhold federal income tax as well as Social Security and Medicare tax from your severance paychecks. If your employee decides to take a reduced amount of pay to get outplacement services, the total amount of the pay remains taxable.
—
4) Set Up Requirements for Eligibility
Choose which employees will be eligible to get benefits. For instance, you can add that just full-time employees would get severance packages, as long as you make sure that all employees under that category are treated equally. You can also decide to list out eligible termination reasons for giving out severance pay. You may choose to exclude employees that resign voluntarily or are fired for any form of misconduct or do not return when required from an approved leave of absence.
—
5) Write Out the Agreement
Your company's severance package agreement should include return of company information and property like keys, documents, or computers. Add the effective termination date, amount of severance pay to be given, in what manner in which it would be paid, and the exact time it will be paid. State whether acquired vacation pay plus other due payments such as commissions would be paid and include the amount. You can also include the health plan benefits that will continue or not, though this is not required.
—

Founded in 1998, Professional Alternatives is an award-winning recruiting and staffing agency that utilizes technology and relationships to deliver top talent. Our team of experienced staffing agency experts is here to serve as your hiring partner. Contact us today to get started!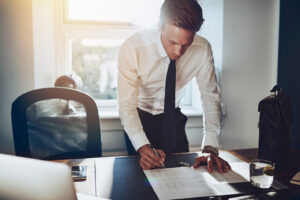 Mastering Modern Litigation: How Houston Paralegals Can Optimize E-Filing and Records Administration ‍ Unlock your potential with the…
(Read More)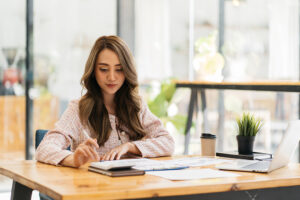 AP Processing Demystified: A Step-by-Step Guide for Recruiters in Houston, TX Introduction to AP Processing As a recruiter…
(Read More)