Your resume impressed a prospective employer, and now you want to know how you can have the most successful job interview possible. What should you wear? How should you respond to questions? One of the most important factors about going to a job interview is knowing what to take with you.
If it's your first time job hunting, you can prepare by knowing what to bring to your first job interview ever. If it's your 20th job interview, it helps to refresh your approach. Below is a list of what to bring to an interview to stand out among the candidates:
1. Professional Attire
Make sure you dress professionally for the interview. What one employer considers professional might vary from another's ideals. It helps to know what the employer expects from you.
Dressing professionally could mean wearing tasteful, formal clothes, or it could mean looking compatible with the role. For example, if you applied for a retail or food service industry role, your employer might take note of your shoes. For jobs that require you to stand during most of your shift, you will want to wear comfortable work shoes to the interview, proving that you already have compatible footwear.
Try to find out in advance if your employer has a policy against visible tattoos, hair dyed in unique colors, and facial piercings.

2. Your Resume and Cover Letter
Bring additional copies of your resume and all the materials that you submitted for the application. Sometimes, interviewers forget to print the materials. Offering your own copies for interviewers who lack them makes your generosity and preparedness stand out.
You might also want an extra copy of your resume so you can remember specific dates when you started or left jobs. During the interview, try to avoid looking down at your resume the entire time. This could give your interviewers the impression that you are unprepared to speak with them.
3. A Notebook and a Pen
You can use your phone to take notes, but some employees might have a strict policy against phone usage for employees on the clock and view the use of your phone during the interview as a sign of incompatibility.
If your interview is virtual, taking physical notes prevents you from having to switch screens to a word processor every time you want to write something down. It's beneficial to have a notebook and pen around when you're learning new information about your prospective employer.
4. Questions for Your Interviewers
Many candidates wonder what notes to bring to an interview, and having a list of questions is important. You want to be able to ask your prospective employer about what the job would be like. By getting answers, you'll have a better understanding of the role you're applying for. Bringing questions to the interview also shows you are interested in the position and want to learn more.
It's best to come up with questions before you go to the interview because you may feel nervous once you're there. Have a long list in case the interviewers address anything you're wondering about, and ask at least two of your questions that are left unanswered during the interview. Expect the first questions you come up with to get answered as the interviewers talk with you about their company, expectations, and policies.
Closed-ended questions with a simple answer you can ask are:
Who will my supervisor be?
Is this a new position, or will I be taking over for someone who's leaving?
Are there opportunities to represent the company at conferences or trade shows?
Less obvious open-ended questions are:
What are your company's long-term goals or future plans?
What privileges will working with you provide?
What are the day-to-day responsibilities for this position?
Who is your ideal candidate?
5. A Briefcase or Folder
Keep your items together in a professional-quality bag, briefcase, or binder for the interview. You will need a place to store all of your interview materials instead of carrying loose papers around. Your employer might offer additional paperwork at the interview if they decide to hire you, and you will be prepared to take your copies home in a good condition with your own folder.
6. Business Cards
If you have your own business cards, bringing them to give to your interviewers can help you stand out. Business cards prove you are serious about your line of work and are capable of working as an independent contractor. They're also a reminder of your contact information.
If your business cards are for a specific trade or industry, it's best to bring them to job interviews for positions that fit. If you have business cards for a hobby or another line of work, it might be unwise to give them to interviewers for an unrelated position.
7. Your Portfolio
Know what documents to bring to an interview for the specific position. For example, if you're an art, writing, or photography industry professional, you should bring your portfolio. You can put a portfolio together for just about any industry using reports, reviews, or praise-filled emails. You may also provide evidence of anything you participated in or helped create for your former employer if you're allowed to share those materials.
8. A Bottle of Water
A job interview can be stressful even for the most prepared candidates. Bring a bottle of water and remember to hydrate. It's OK to occasionally sip water throughout the meeting, just like you've probably seen teachers and presenters do, but try to save the water for before and after your interview.

9. A Positive Attitude
Your interviewers will often first notice how you present yourself. Stay positive and try to be cheerful and optimistic. Avoid acting like someone other than yourself, however. You want to be the authentically best version of yourself.
Try to present yourself with a confident posture and a natural smile. Make eye contact with the interviewers, and make an effort to listen attentively. Be positive about your skills and past experience to show what type of personality you'd bring to the workplace.
10. Required Materials and Technology
If you will be participating in a video conference interview, make sure you have the technology you need. You will want to be in a relatively quiet location with a good Wi-Fi connection. You will also want to have access to a computer or phone, if needed.
Some prospective employers will want you to bring something to write with if part of the interview involves filling out a form. Many agencies will give candidates testing or a pre-employment assessment before the interview stage. Have your own pens and pencils just in case, as well as any other materials the interviewers may have requested you bring.
11. An Umbrella
If your interview is virtual, you have the luxury of staying indoors away from the wind, sun, and sudden shower, but if you're going to the location in person, take an umbrella. When you're preparing for an interview, checking the weather is going to be far from your mind until it starts raining as you're walking into the building. You can always leave the umbrella in your car or bag if the sun stays out, but otherwise, you will have one with you just in case a storm suddenly blows in.
12. Your Wallet
Make sure you have your wallet before you leave for an in-person interview. This is an easy item to forget at home when you're feeling nervous about an important event. Your interviewers may not request to see ID, but it might be a requirement for getting into the building. You may also need to pay for parking, so double-check you have your wallet and any cards before leaving.
13. A Plan
You want to be well-prepared for your meeting and have a plan for arriving on time. If your interview is going to be virtual, make sure you test your computer, camera, and meeting software. A video call that starts with unexpected updates and a struggle to get your technology to work can delay the start time.
Host a practice session on the program with a friend to make sure you know how its features work and can troubleshoot any problems. Know how to answer the call, turn your microphone on and off and use the controls. The programs commonly used for job interviews are usually user-friendly, but troubleshooting during a practice run can help you be prepared.
If you have to go to the interview in person, plan to have reliable transportation beforehand. Make sure you check how long it will take to get to the interview location the day before the meeting. Give yourself at least a 10-minute buffer to account for potential traffic or extra time it takes to find the workplace. Plan for enough time to eat a light meal before the meeting, as well.
You might also want to arrange plans for a meal after the interview is over. Planning a reward will give you something to look forward to and help you stay optimistic.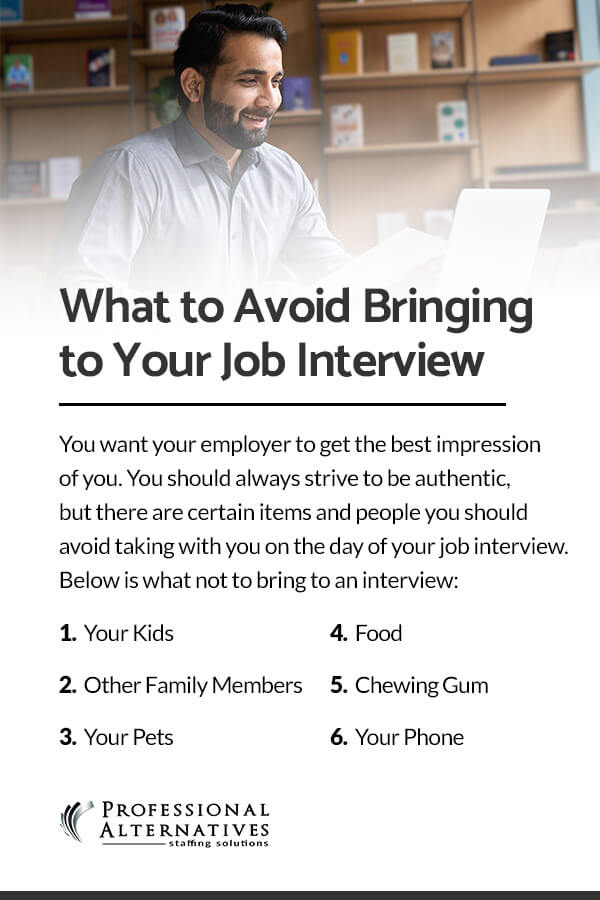 What to Avoid Bringing to Your Job Interview
You want your employer to get the best impression of you. You should always strive to be authentic, but there are certain items and people you should avoid taking with you on the day of your job interview. Below is what not to bring to an interview:
1. Your Kids
Make sure you hire a sitter before you commit to the interview. Bringing your kids along could send the message that you have no one else to help watch them, meaning you might also be in a position where you have to bring them to work with you. If the workplace has a day care and you want to express your need for child care as one of your expectations for working there, you should still leave your children with a babysitter.
2. Other Family Members
If you have family members who are excited about your interview opportunity, they might try to help you and unintentionally make you feel more nervous at the same time. It's OK to let a parent or relative drive you to the interview if you need a ride, but it would be wise for them to wait in the car rather than going into the company building with you.
3. Your Pets
Avoid bringing your pets even if the interview is for a position in a pet store or veterinary office. Animals can be unpredictable in a new environment. Get someone to look after your pets for the few hours the interview takes.
If you have a service dog, however, you should be allowed to take them with you as you normally would, but make sure you check with the company first. A job with safety concerns for service animals is one you should avoid interviewing for.
4. Food
Avoid eating pungent snacks on your way to the interview. Foods with onions and garlic can give you a case of bad breath. Coffee can also lead to an unpleasant smell. Avoid eating in the interview itself so you can focus on what the interviewers are saying and asking.
5. Chewing Gum
If you hastily stick some gum in your mouth to freshen your breath on the day of your interview, you might forget that you're chewing it. Munch on a few breath mints instead. Chewing gum during your interview often gives a bad impression.
6. Your Phone
You need your phone if the hiring team will be calling you, but for an in-person interview, leave it in your bag on silent or turned off. Many employers have policies against employees using their phones at work. If you bring yours and leave it out, you might look out of place with their culture.
You can still bring your phone, especially if you're using its GPS to navigate, but keep it out of sight. When the interview ends and you are back outside the building, take a deep breath and get out your phone to call your friends or family and let them know how it went.
How to Ask What to Bring to an Interview
It's important to have clear communication with whoever contacts you to set up the interview. You might have to go through a phone screening before your in-person interview, or you might get an email reaching out to schedule your best possible interview time. This moment is when you should ask if you need to bring anything important.
Many recruiters will simply tell you to dress professionally without elaborating, but some employers will expect you to bring a portfolio, a job application, or other materials for the interview. It is rare that the recruiter will forget to tell you when you need to bring something, but it's fair for you to ask, just in case.
What Happens if You Forget to Bring Something Important?
When you're rushing to get to an important meeting, you might accidentally forget something minor. Try to set aside perfectionism and brush off the forgotten item until later.
If the materials are critical for completing the interview, see if you can access digital versions. You want to make sure you have access to your portfolio even if you leave the physical copies of your work at home. Having a website or virtual portfolio is very useful for marketing yourself.
Using a list like this or writing out your own can help ensure you have everything you need the day of the interview. Planning and giving yourself extra time to get there will also help. You can have a cushion of time to turn around and go back home if you forgot something vital for the meeting.

Find Work With Professional Alternatives
Do you need to find a job with an employer you can count on? Let our recruiting agency help. Search through open jobs or submit your resume to us at Professional Alternatives. Contact us if you have questions about our services.

Founded in 1998, Professional Alternatives is an award-winning recruiting and staffing agency that utilizes technology and relationships to deliver top talent. Our team of experienced staffing agency experts is here to serve as your hiring partner. Contact us today to get started!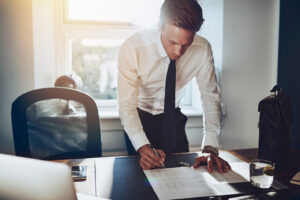 Mastering Modern Litigation: How Houston Paralegals Can Optimize E-Filing and Records Administration ‍ Unlock your potential with the…
(Read More)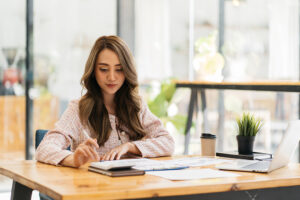 AP Processing Demystified: A Step-by-Step Guide for Recruiters in Houston, TX Introduction to AP Processing As a recruiter…
(Read More)